I am not a sports fan.  I am not an athlete.  I have a strong aversion to anything that has the potential to cause me to sweat.  It's ironic, since I live in South Florida — a place where you could theoretically hold annual competitive sweating contests in August while standing completely still.
I watch the Superbowl strictly for the commercials and halftime show.  Rarely I can appreciate a Miami Heat basketball game. To be truthful, I'll only partially pay attention during the last quarter. And most of that time is spent scanning the floor seats for people I may know.
That being said, last night my daughter asked if she could watch the Olympic opening ceremonies with me.   My gut reaction was to pray that she'd realize I was currently watching a riveting previously recorded episode of Law & Order: SVU. I hoped she'd be drawn in to the magic that only occurs when you mix Ice-T, Mariska Hargitay and a "ripped from the headlines" plot.
She played the "but Mom, this is history" card.
We watched the Opening Ceremony.
To be fair, there were no sports involved last night. There were beautifully choreographed performances.  There was Vladimir Putin, who is scary enough to be a villain on Law & Order SVU.  There was a light show that concluded with four out of five glowing Olympic Rings. These rings were accompanied by a pretty glowing snowflake in lieu of the fifth ring.
Personally, I liked the snowflake.
Unfortunately, I suspect that the unfortunate individual in Sochi who was in charge of turning five snowflakes into five Olympic rings but only managed to achieve success with four is probably experiencing a scary Law & Order plot twist of his/her own right now.
When the parade of countries began, she asked me where countries were located geographically on a map. I made up my answers because I have no clue where half of these places were. After about four blatant lies, I realized I should just comment on what I know.  Or at least what I think I know.
Should anyone ever need a tutor in World Geography, I am most definitely NOT your person.  Case in point: A country called Timor-Leste.
Mexico's standout athlete is a very handsome 55-year-old German prince who wears a spandex Mexican Mariachi-themed unitard which, in actuality, resembles a Spanish matador costume.  The obvious fact that Dos Equis has not already recognized him as "The Most Interesting Man In the World" disturbs me.
.
I'm still not 100% convinced that the flag holder from Kazakstan was not, in fact, Borat.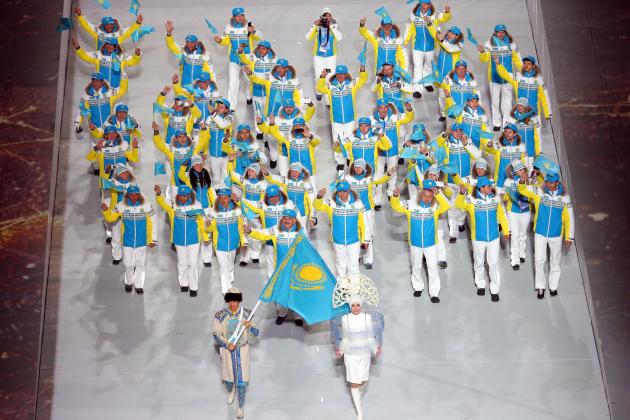 Kudos to Bermuda for their shameless plug of Bermuda shorts in the opening ceremonies. There hasn't been this much buzz about this outfit since Cheap Trick's last concert.
The Independent Olympic Participants without a Country, aka Orphan Olympians, evoked the same emotion in me that I feel every time the Sarah McLachlan ASPCA commercial airs. Three lone men. That don't have coordinating outfits or hats.  Or a flag.  I don't even want to post a picture.  It's too sad. But for the sake of those who missed the 4+ hour Opening Ceremonies, here it is (you've been warned):
Germany, you are Skittle-fabulous.  After Russia's hateful "anti-gay" nonsense that went on last week, I stand up and applaud your team uniform.  Whether you intended to make a social statement or not, I give you a two thumbs up.
The Cayman Island Olympic uniform: board shorts and flip-flops.  Did anyone send them the memo that this was the WINTER Olympics? A peculiar phenomenon occurs when a male subjects his "man-parts" to frigid temperatures. I'm no athlete…but I can't imagine that having one's testes crawl up into his sinus cavity for warmth will in any way boost his performance in his event.
And finally, thank you, Ralph Lauren. You brought the iconic Bill Cosby sweater back. Go USA!